Today we will learn how to create Drop Down Selection List In Excel
Google Docs spreadsheet makes it easier to get the required inputs from students/employees but to maintain consistency of text which is why it's always better to make available the list of options in dropdown menu for the users to choose from instead of allowing the users to type in their inputs. The dropdown list of options is easy to implement in Google Docs Spreadsheet which also makes it faster to fill in the details.
Here are the steps to follow to create a Drop Down Selection in Google Docs Spreadsheet:
First, create the column name and select the column name for which you want to show a list in the dropdown menu.

Next In the Column Name Box of the selected column on mouse hovering a new drop arrow should be available, Click the arrow and select " Validate Data" from the Menu as also shown in the image below.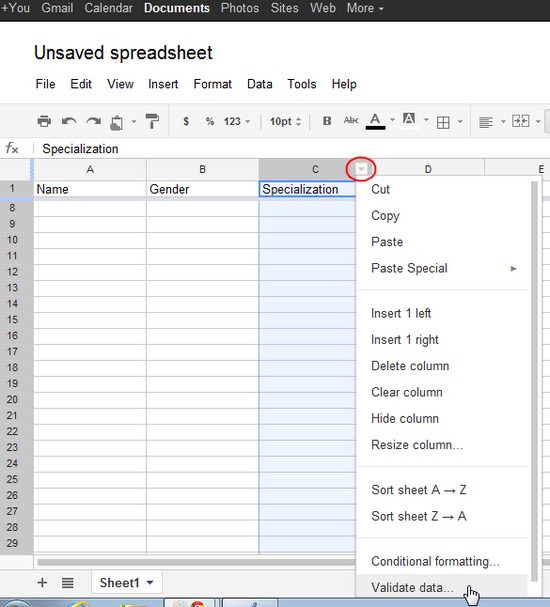 A new " Data Validation " Popup window should be presented using which the required data validation list can be set.Under Criteria Menu select " Items From A List "  Next select " Enter List Items " where the required list of inputs which the users can select have to be entered separating each item with a comma as shown in the image below.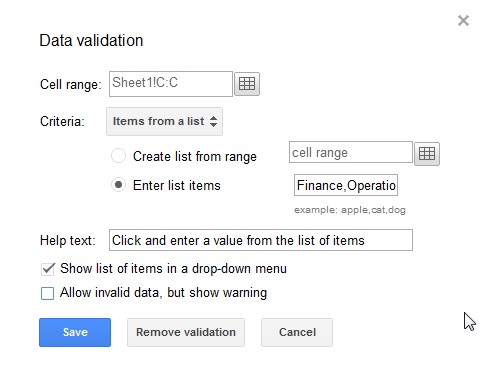 In case you want to allow users to enter data other than the pre-defined list of items, then also Check " Allow invalid data, but showing warning ". Save the Settings, after which you should have the dropdown menu for each field of the column for which you created the Validation.The image below shows how the item can be selected from the List.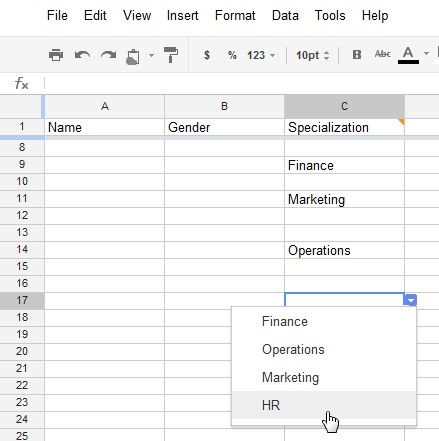 If you want to learn more about how to create Drop Down Selection List In Excel Click Here.