The default registration form that is included with WooCommerce is simple and contains only the basic fields. While it might suffice most users, it is inconvenient when you cannot add in other important fields and details while registering. You will be required to add in Billing, Shipping or other additional fields everytime your users try to check out. While it may not be that big of a deal, it is certainly a hassle if your users visit and make a purchase on your site on a regular basis. So what can you do to avoid this inconvenience you ask? Well, the answer is simple. WooCommerce Registration form plugins.
1. Ultimate Member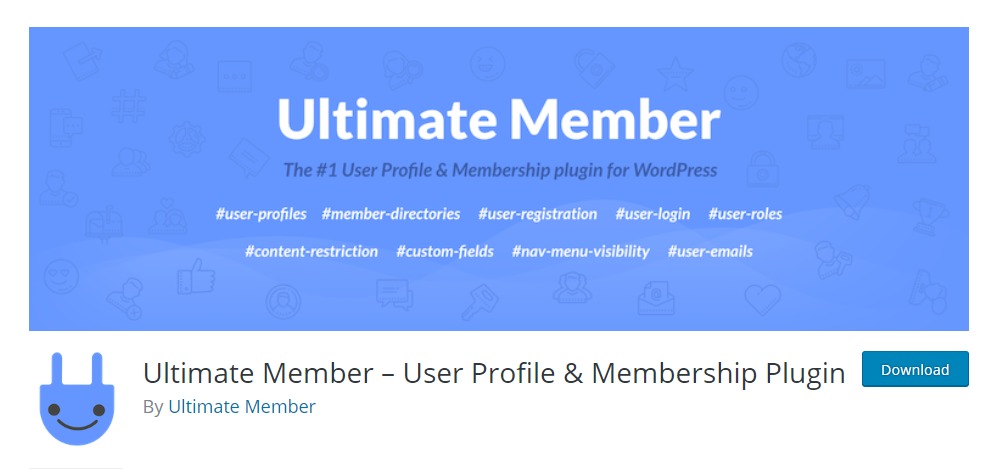 Ultimate Member as the name suggests is an incredibly useful WordPress and WooCommerce registration plugin meant for any types of websites. Probably one of the best Free WordPress form plugins, you can use it to build your audience and the overall member count. It comes with an easy drag and drop form builder that enables you to view live what the end result looks like Additionally, the front-end profile registration, login, and custom fields provide the user a beginner-friendly experience. For your convenience, you can also easily modify the user roles on your websites.
The plugin further includes member directories, user account pages, and custom form fields.You can easily modify the fields, add or remove all of the elements to your preference. What's more is that this plugin fully supports WooCommerce after you get the premium add-onavailable. This enables you to add additional fields as well. The developer-friendly aspect of the plugin gives the user access to a dozen of actions and filters as well. Although a free plugin, it features a ton of amazing premium-like options.
2. User Registration – Custom Registration Form, Login And User Profile For WordPress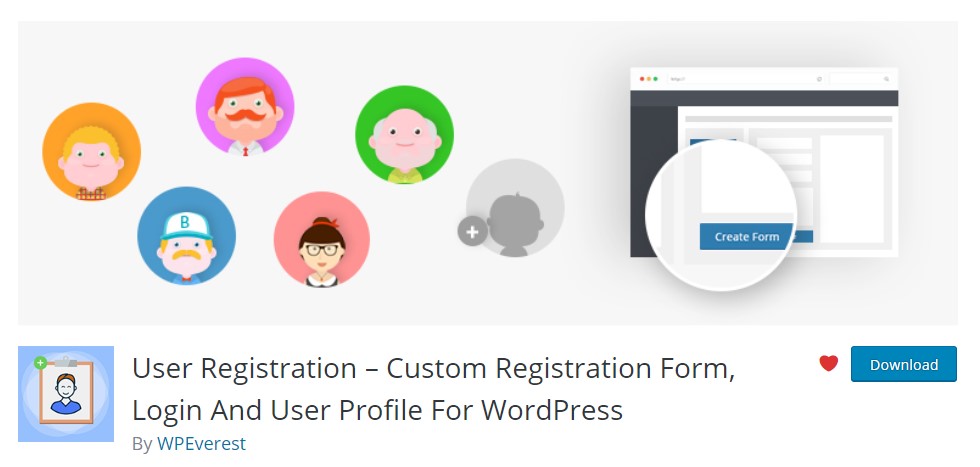 User Registration plugin provides you with an easy way to create frontend user registration and login forms. Drag and Drop fields make ordering and creating forms extremely easy. The plugin is lightweight, exendible and can be used to create any type of registration form.
Supports frontend profile account page for profile edit, password change, Log out and more.
FEATURES AND OPTIONS:
Simple, Clean and Beautiful Registration Forms
Drag and Drop Fields
Unlimited Registration Forms
Multiple Column Design
Multiple Form template designs
Shortcode Support
Google reCaptcha Support (v2 and v3)
Email notifications
Email Customizers
Form Duplicate Option
Profile account page
Admin approval option
Auto login option
Email confirmation to register
Enable/Disable Strong Password
Default User Role Selection Option
User data export in CSV
Well Documented
Translation ready
3. User Registration & WooCommerce Integration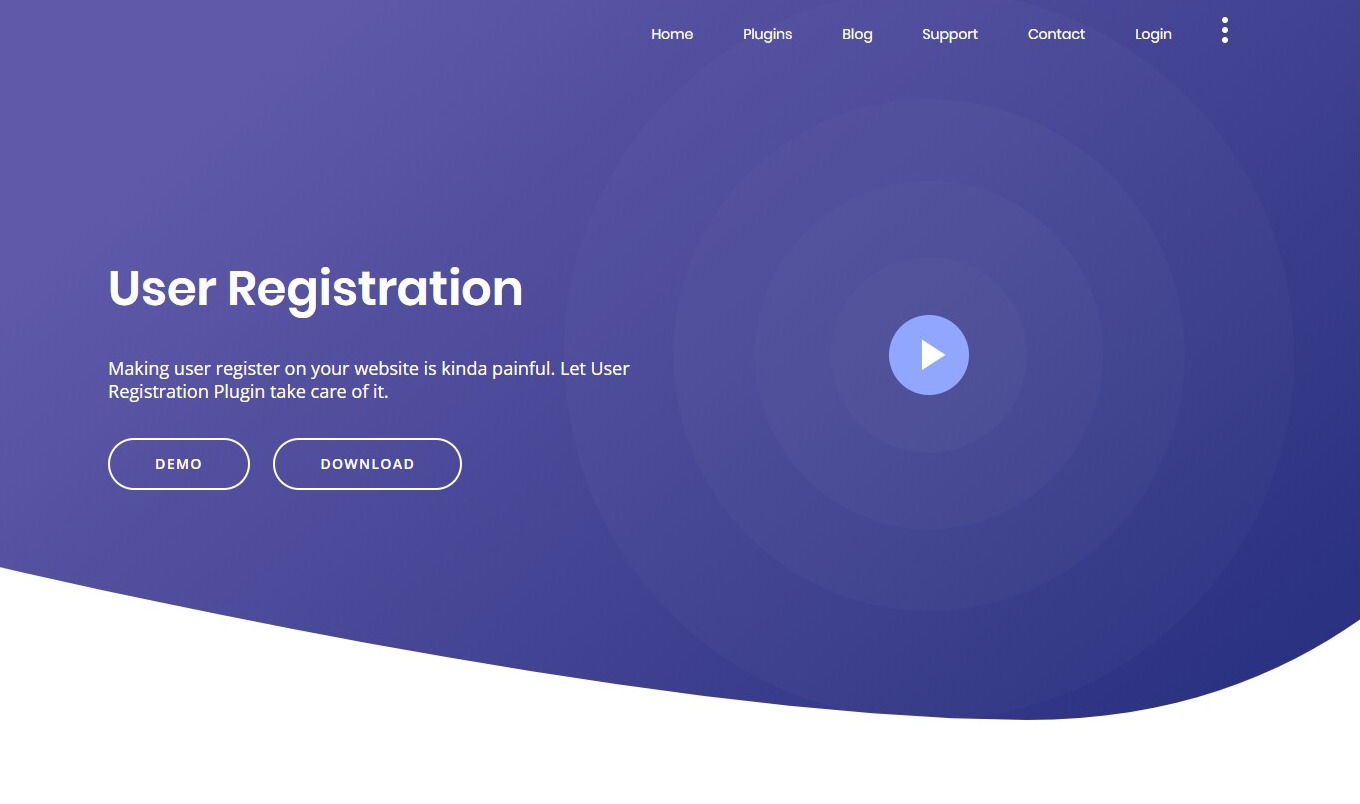 User Registration is an incredible WordPress online registration plugin that is designed and aimed to make the registration process for website owners and visitors easier. The easy to use drag-and-drop UI alongside the user-friendly interface provides the user an easy way to build forms. For the convenience of the users, it includes 5 different forms design and multiple layout variations to choose from. Additionally, the advanced options to enable/disable the strong password, registration without a username, and privacy policy field, adds up to the efficiency. Furthermore, it also supports the social login option that ensures the user login by using their social media accounts.
For WooCommerce integration, it provides a premium WooCommerce add-on that you can easily install and activate within a minute or so. This enables the user to use WooCommere billing and shipping fields and sync others if required. Furthermore, you also have the option to integrate Orders, Downloads, and Addresses tab for easier access. This allows the site owner to easily manage all the data's and allows centralized management. The plugin is absolutely free of cost, so you just need to pay for the add-on. And by all of the amazing features, it includes, it is surely worth the investment.
4. WooCommerce Registration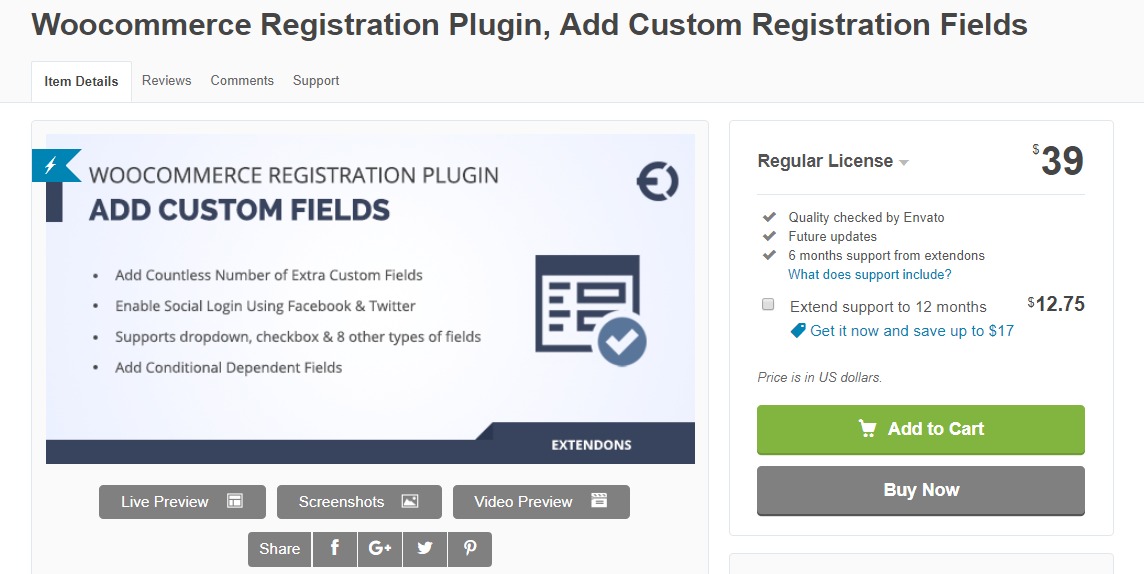 WooCommerce Registration by Extendons is a premium WordPress plugin designed and crafted especially with WooCommerce websites and user registration in mind. It serves the purpose of integrating an unlimited number of custom fields on your registration forms. Featuring an easy drag and drop feature to customize and modify the elements, it is extremely easy to work with. Additionally, this plugin supports 10 different types of custom fields including text box, select box, checkbox and more. It also supports the social login options that enable the user to directly sign in using their Facebook or Twitter accounts.
The plugin also includes an option to add conditional WooCommerce Registration fields. This means that the additional fields will be displayed if the particular condition applied is met. To avoid spams and bots, you can also enable the option for Google ReCaptcha that restricts the spamming actions and filtrates them. Packed with tons of amazing features, this plugin surely deserves the place on our listing.
5. ReForce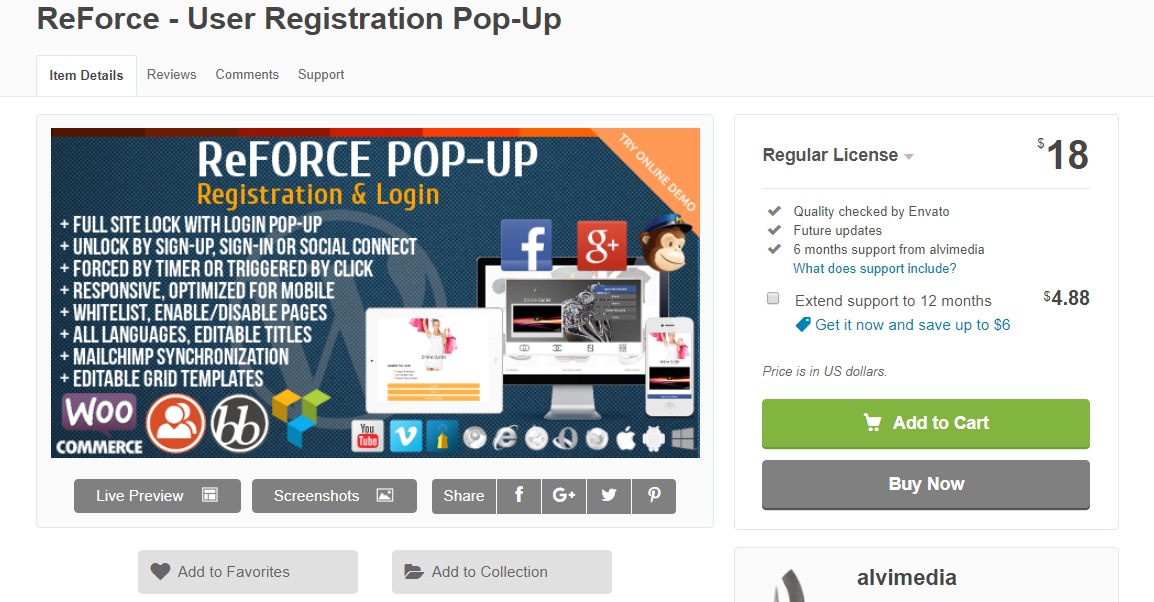 If regular looking forms are not what you are seeking, then ReForce is a premium WooCommerce Registration plugin that allows you to create attractive pop-ups. That's right! It is easy to use and create registration and login pop-ups. The best part is that it is lightweight so that your site functions at amazing speed even with it installed. Specifically designed for websites of all kind, it is also integrated with WooCommerce and BuddyPress. The pop-ups you create can be used as a custom login or can be modified to configure as an all-in-one solution for registration and subscription.
Once activated to your preference, it will lock the screen with the pop-up so that the users will need to sign-up. Supporting social login, you can allow the users to sign-in using their Facebook or Twitter account. The best part is that the pop-up option can also be used for videos from YouTube, Vimeo or more. The advanced typography option and fully responsive layout structure make sure it is appealing at all time. Furthermore, the plugin can also be synced with MailChimp in order to integrate email-responder
6. WooCommerce Registration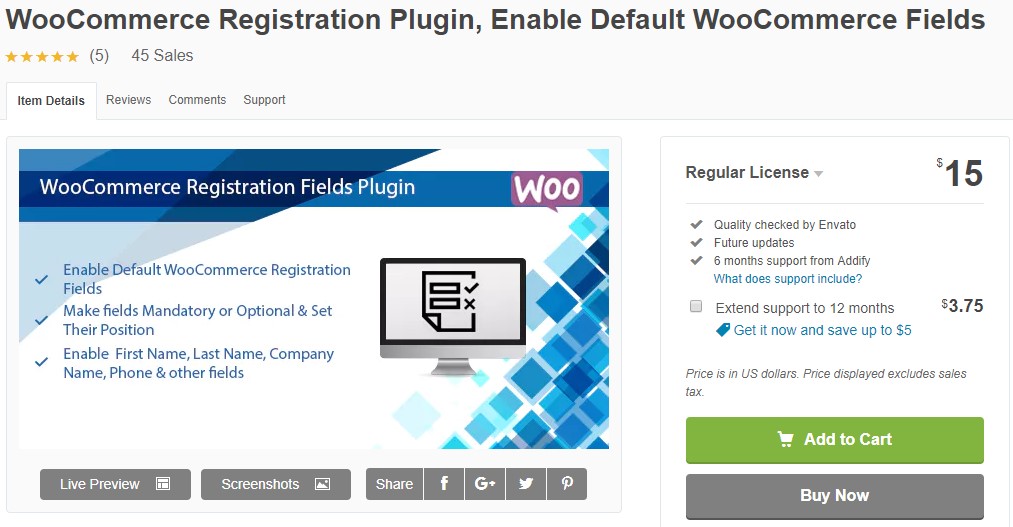 This is yet another amazing find if you are looking for WooCommerce Registration plugin for your website. Developed by Addify, the WooCommerce Registration allows the user to easily add custom fields that you desire with a few simple steps. Whether you wish to add text area, text box, select box, checkbox or color pickers, this plugin includes it all. With a premium lifetime-support, it assures the user of a quality service. Additionally, the plugin also enables the user to add conditional fields that show up only when the answer users enter meets the condition applied.
The social login included within the package also lets the user easily log in without signing up, using their Facebook or Twitter account. In addition to this, you also get an intuitive drag-and-drop form builder that is extremely user-friendly. An additional default section for WooCommerce registration is also available. But if you wish, you can easily disable the option. More advanced feature includes making field mandatory or read-only for certain users. For your convenience, it also allows the user too add Google reCaptcha to avoid spamming on your site.
7. Profile Builder
Another amazing free WooCommerce registration plugin is the Profile Builder. As the name suggests, this plugin works as a one-of-a-kind profile and user registration form builder. Completely responsive you will come across no problems with the layout no matter which device you use. Customize your website by adding front-end menus for all your users with ease. Giving your users a flexible way to sign-up, register and modify their profile, this plugin is surely one we recommend.
It includes a ton of shortcodes that you can implement with ease to add different custom fields. In addition to this, it also allows the user to choose and modify the user roles from their admin bar settings. More advanced features of this template include Content restrictions, Google reCaptcha, custom fields, drag and drop form builder and more. To integrate WooCommerce with this plugin, all you need to do is add a premium add-on for WooCommerce Sync. It will then enable the user to sync their WooCommerce data for you to easily manage.
Wrapping It Up!
Today, we have made a list of free and premium WordPress registration plugin so you don't have to. Keeping in mind all the eCommerce and WooCommerce website users, each of this plugins provides an easy option to add registration forms on your site.
Whether in form of a shortcode, pop-ups or simply forms, these plugins are listed with their unique set of features. Do let us know down in the comment section what you think about our WooCommerce registration plugins!